The ELLA Leadership Institute is proud to announce that it has partnered with Google, New York Life, and Latina Bloggers Connect to bring the highly anticipated LATINAS THINK BIG event to  L.A. on October 11, 2013!
Here's everything you need to know about the trailblazing sponsors helping to bring the LATINAS THINK BIG event to our West Coast hermanas: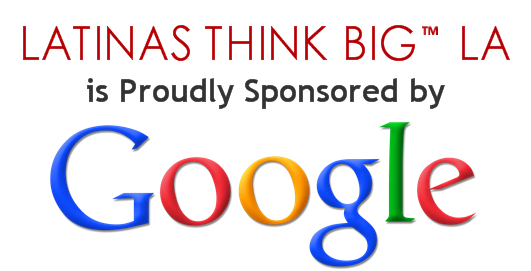 Title partner and supporter Google has collaborated with ELLA Leadership Institute to LIVE STREAM the LATINAS THINK BIG™ LA event via Google+ Hangouts On Air  for national visibility.  Recordings of the live event and individual presentations at Google's office in Los Angeles will be available on YouTube following the event, on the ELLA Institute YouTube Channel.
 A dedicated supporter of the ELLA Leadership Institute , New York Life is back to sponsor it's second LATINAS THINK BIG event of the year.  New York Life  is devoted to helping families create, preserve and protect their financial security, and is the recipient of several awards celebrating the company's commitment to diversity and and working mothers!
Latina Bloggers Connect has been helping Latina bloggers of diverse backgrounds to connect with marketers and brands since 2010.The first Latina-focused blogger-brand community of it's kind, Latina Bloggers Connect recognizes Latinas' expanding power in the consumer marketplace, and provides bloggers with the opportunity to influence both consumers and big name brands.
And that's not all! The ELLA Leadership Institute would also  like to extend a heartfelt thank you to our incredible media partners: Majestic Relations, Ella Media, Las Fotos Project and #LatinaGeeks!
Related Stories: